Mc Cord – Learning Through Art Project- Exhibition
Monday 22nd May
We are all really looking forward to the exhibition on Monday 22nd May and welcoming early years staff from neighbouring schools to Holy Trinity Primary on the day. A tremendous amount of work has gone into the project especially from our P1 staff, Art Teacher, Mrs Byrne and Educational Consultant, Mrs Clare Devlin. We will also be delighted to welcome to Holy Trinity Primary members of the Mc Cord Trust Team, headed by former Chief Inspector, Mr Stanley Goudie. The Trust had a very clear vision for the project and has backed that up with practical support throughout. We are very grateful to the Mc Cord Trust Committee for all their help and indeed for the opportunity to participate in the project.
Edinburgh Trip
Almost all set for this year's P7 residential trip to Edinburgh. Fifty two child and six staff will travel next Monday 15th May.
Let's hope the weather continues in the same vein that it has been in over the last few weeks- Look out for the daily trip blog on the website.
First Holy Communion
Congratulations to the P4 boys and girls who will be making their First Holy Communion this Saturday 13th May.
Visit of Children's Commissioner to Holy Trinity Primary School
I am really looking forward to the visit of the NI Children's Commissioner, Kuolla Yiasouma to the school next Tuesday 4th April. The Commissioner has made quite an impression since taking up post and I look forward to welcoming her to Holy Trinity Primary.
Holy Trinity Primary School Pupils Exhibit Art Work in National Gallery of Ireland.
Four pupils from last year's P7 group, Catherine Mc Namee, Darragh Mc Aleer, Aimee Fitzpatrick and Daniel Mateus have been selected to exhibit their work in the National Gallery of Ireland.
The children were winners in the All Ireland Schools competition based around the theme of "Imagining the Ireland of 2116". This is a tremendous honour for the four children and their families who are invited to an official opening and reception on Thursday 6th April. Congratulations to them all. Well done also to Mrs Byrne and the P7 teachers involved.
Confirmation
Sunday 25th March
Confirmation on last Sunday 26th March was a wonderful community and sacramental event. The beautiful weather on the day contributed to the occasion.
The thought came into my mind during the ceremony on Sunday -Holy Trinity Primary is very lucky to have such talented teachers within its Music Department who turn up time and again at such events and sacramental occasions to share their obvious talents with us.
Literacy Talk
Great to see so many parents in attendance at the Literacy Talk on Tuesday night (28th Feb). Guest speaker was Mrs Kate O' Hanlon. Kate really is a gifted communicator and is someone who can draw on many years of experience in the promotion of reading. One of the most interesting discussions on the night was around the access of children to new technologies such as iPads/ phones etc. and the potentially negative impact of this on the development of their literacy/communication skills. Mention was made of Sue Palmer's book- "Toxic Childhood" – certainly worth a look.
For me, one of the main messages from Kate's talk was the importance of parents encouraging their children to speak at length about their learning and other experiences. Indeed, providing a range of experiences/ trips/ visits etc. is critical to the development of the children's reading comprehension skills.
Yes, technology can be a wonderful source of learning for children but really there is no substitute for the traditional visit to the local library/ museum/ theatre/ farm!
Mr Jim Eastwood- Formerly of "The Apprentice" addresses P7 Entrepreneurs
Our P7 pupils had a very special visitor this week, none other than Mr Jim Eastwood, formerly of the BBC show "The Apprentice" and a successful business man in his own right. The visit formed part of the Junior Entrepreneur Programme which the P7 pupils have been involved on over the last two months. Mr Eastwood spoke to the pupils about what makes a good entrepreneur and the qualities required in business such as teamwork, perseverance, communication skills etc. The children really enjoyed Mr Eastwood's talk which was highly informative and interactive. "Thank you very much Mr Eastwood" for all the P7 children!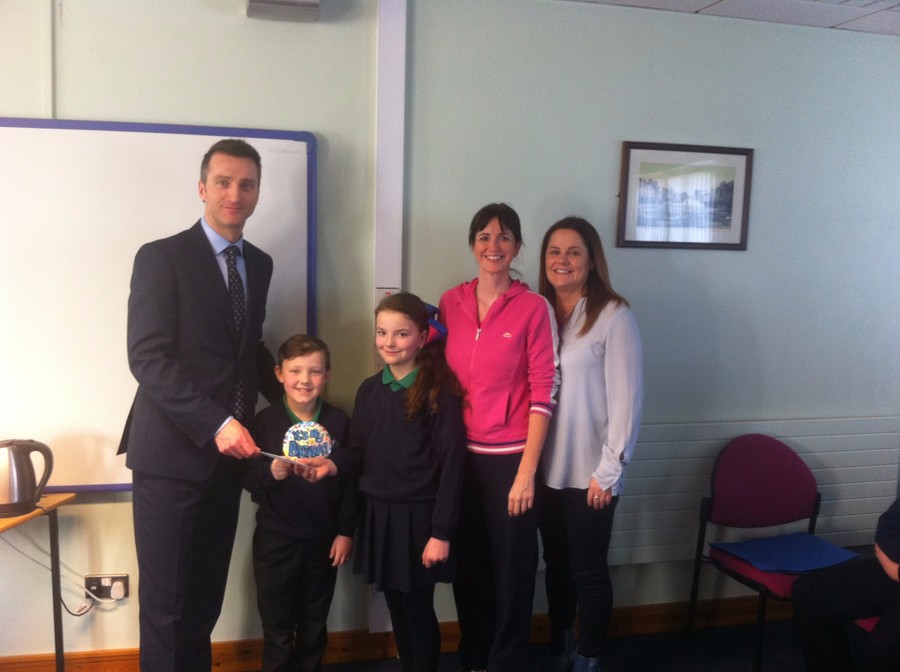 Parish Mission- Visit to P7
Our P7 pupils preparing for Confirmation had a visit this week from one of the Mission Team visiting the Parish this week. Mrs Helena Connolly spoke to the children about their faith in general and about Confirmation in particular. Some of the children volunteered to be part of a Mass for the Sick which is being held as part of the Mission.
Lent Assembly
Miss Devlin's P2 class presented a lovely assembly on the theme of Lent. The children explained, in their own way, the meaning of Lent and the need to do good, look after others and pray.
Ashes were distributed to all pupils by Fr Tremer helped by Mrs Coney.
Shared Education Campus Update
Just to keep you informed- the Shared Education Campus Application bid is now submitted. Last Friday- (24th February) the three local primary schools made a joint presentation on the proposed project to a committee at the Department of Education. The final decision will be made in May. Let's keep our fingers crossed that it gets the go ahead and that the new STEM/ Active Learning Centre becomes a reality.
February 2017
Dragons' Den at Holy Trinity Primary School
The Holy Trinity version of the popular BBC series Dragons' Den took place in the school on Friday 3rd February. Nine teams from each of the P7 classes competed for the product endorsement of the Dragons who on the day were: Mrs Carol Doey, (The HUB), Mrs Andrea Mc Guckin (Cookstown Enterprise Centre) and Mr Devlin (Principal). The pitches and presentations made by the children were of the highest standard- with the products ranging from scented candles to cushions. Well done to all the P7 children, staff and Mrs Byrne. Mrs Doey has kindly agreed to host a mini enterprises stall at The Hub. Look out for the young Holy Trinity Primary entrepreneurs!
Transferring to Post Primary School
Another year passes and unregulated testing for P7 pupils to gain admission to grammar schools continues- Why?
Surely, in this day and age, outmoded notions around children being either academic or vocational are of the past.
All children need to be educated to a high level- all children need to be given the skills to prepare them for the world of work. Why then do we need artificial barriers in the form of unregulated testing when we should be encouraging the growth and development of alternative educational pathways for all children? Schools should be working together to meet the needs of pupils - not the other way around!

Why Catholic Schools?
Last week was Catholic Schools Week- not just in Holy Trinity Primary but in all Catholic schools across Ireland. All over the world, parents choose to have their children educated in Catholic schools because they consider it is the best fit for their values and ethos- not all of these parents are Catholics! So what is a Catholic school?- Yes, there are particular aims and values around faith formation and sacramental preparation( For those parents who choose it for their child) and yes prayer and worship are daily features in all Catholic schools In addition, however, there is an overarching philosophy stretching back to the birth of Christianity itself. This philosophy is enshrined in beliefs such as working for the common good, preference for the poor and the primacy of community- all of these values and others guide the daily work of the school and its mission- the nuts and bolts of every day school life if you like. No one claims that Catholic schools are better than other types of schools- indeed, part of our mission is to reach out to people of all faiths and none- but they, i.e. (Catholic schools) are different!
January 2017
t's hard to believe January is almost over, I think you will all agree it's been a very busy month in Holy Trinity P.S & Nursery...
P7 Junior Entrepreneurs
Many thanks to Mr Brian Mc Auley (Chief Executive- Dungannon Enterprise Centre) and Mrs Andrea Mc Guckin (Cookstown Enterprise centre) who came to the school on Tuesday 17th January to speak to our pupils on the topic of "What makes a good entrepreneur". Each of the three P7 classes is involved in the Junior Enterprise Programme. As part of the programme, the children must design, create and sell a product. In advance of this, the children are tasked with preparing a pitch for their product and presenting this to a judging panel -much like in the BBC Apprentice Programme.
Hurling History Makers
History was made on Thursday 19th January when a school hurling team participated in a school blitz at the Lough View Centre- for the first time in the modern era. Many children from Holy Trinity Primary have been attending the hurling coaching sessions at the Mid Ulster Sports Centre in anticipation of the establishment of new regional hurling club. The new club has been named "O Neill's Tullach og" which is very appropriate given its location. Checking though the records hurling was played in the school during the 1940's/ 1950's and as far back as 1903!
Back to School
Almost two weeks back at school now and December feels like such a long time ago…
Looking ahead to Term 2, we are currently putting together a programme for the Annual Spring Parent Talks. The programme has been hugely successful and very well attended in recent years. We have pencilled in an eSafety talk for parents for part of this year's programme as we feel that this is a critical issue. The talk will be delivered by Mr Damien Harvey in late January- more details nearer to the event. Other ideas that have been discussed include: parent/ child activity nights. Please let us know if you have other suggestions.
Planning for Confirmation on Sunday 26th March is already underway with the date for the Ceremony of Light / Parent Meeting scheduled for Tuesday 7th February @ 7.30pm in Holy Trinity Church.
Catholic Schools Week will take place on the week beginning Sunday 29th January – The theme for this year's event is Catholic Schools- Learning with Pope Francis to care for our common Home. Again, there will be a series of school and class activities /events to mark the week- please check the website for details later. The environmental theme for Catholic Schools' Week will no doubt be explored further by our Eco Team under the direction of Miss Cush

The MUGA action group meets on Monday 16th January as we renew our efforts to improve sports facilities for our pupils now and into the future- any help which you feel that you can give would be greatly appreciated.
Final thought for now- very sad to hear reports of children elsewhere being knocked down on their way to and from school- please exercise extreme care at this dark time of the year especially when driving on the approach roads to the school. We have alerted pupils to some of the dangers for pedestrians but a further word by you the parents would be useful in helping to keep all our children safe.
Best Wishes,
Mr Devlin
Friday 14th October 2016
Great to see so many people at the Sports Development meeting on Thursday 13th October. Listening to the various contributors on the night, it was very obvious that there is a real passion for sport in our community and that everyone is committed to providing the very best facilities for our children.
One of the central themes of last night was the need to work together in the best interests of all. We were very delighted to have Peter Canavan there and for him to share his insights on the theme. Many thanks to the officers of Fr. Rock's GFC who jointly hosted the meeting and for all their work in imagining and imaging what the future might look like. Next step the setting up of a steering group to take the work forward!
Well Done Miss Fiona Doyle P7!
ENTHUSE Science Award for Miss Doyle P7
Congratulations to Miss Fiona Doyle P7 who has successfully completed two Science modules as part of her work with the National Science Learning Centre.
In recognition of Miss Doyle's achievement, Holy Trinity Primary School has been awarded a bursary of £840 to purchase science and technology equipment.
Pupils in Holy Trinity will benefit from Miss Doyle's expertise for many years to come.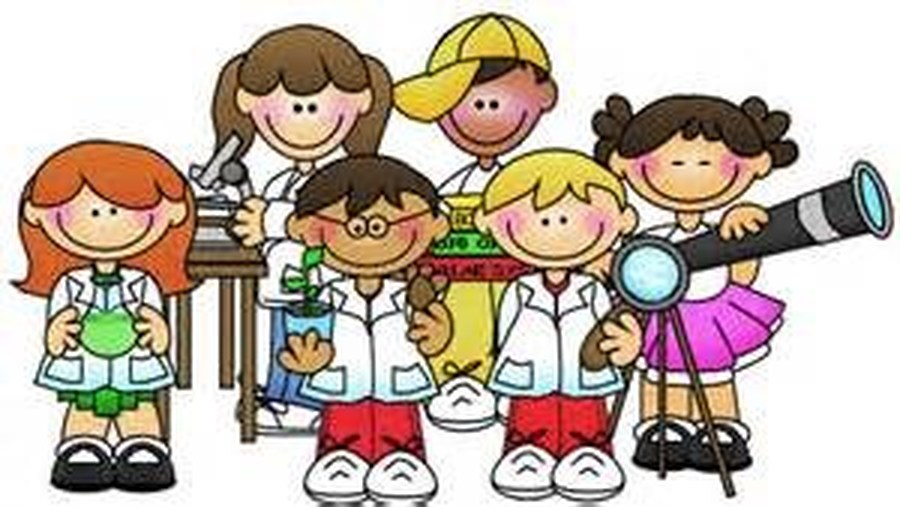 Thursday 29th September 2016
Success for P7 pupils in Mandarin Exams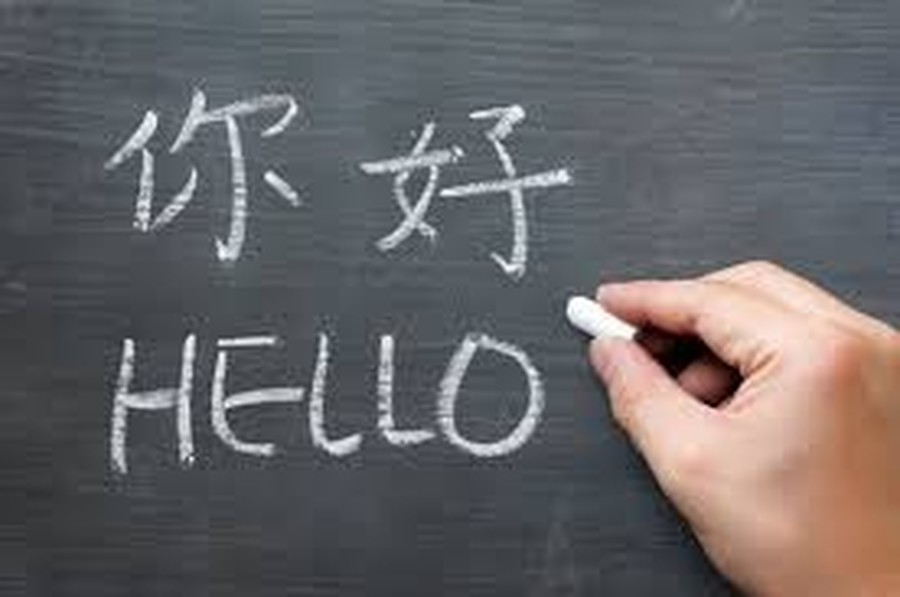 Congratulations to the 23 boys and girls from last year's P7 group who were successful in their Mandarin exams facilitated through South West College. The children took the exams in June and passed with flying colours. Mandarin tutor, Mr Dong Zhihao was very confident that the children would do well and his confidence was well placed! Well done boys and girls.

Children in Primary one are taking part in an innovative art project this year under the auspices of the Mc Cord Foundation. The children will be provided with many opportunities to experience and explore a range of art forms and materials. Building on the children's natural creativity and curiosity, the project aims to promote language development and positive attitudes to learning. The project which involves all our P1 classes is led by Mrs Slater and supported by Mrs Byrne. Mrs Clare Devlin (Educational consultant) is also working with the school.
Please chat to your child re the activities which they are doing in class. There will be an opportunity to see some of the work at an event later in the year
We would be delighted if parents had any comments or insights on the programme which they would like to share with Mrs Slater or any member of the P1 team.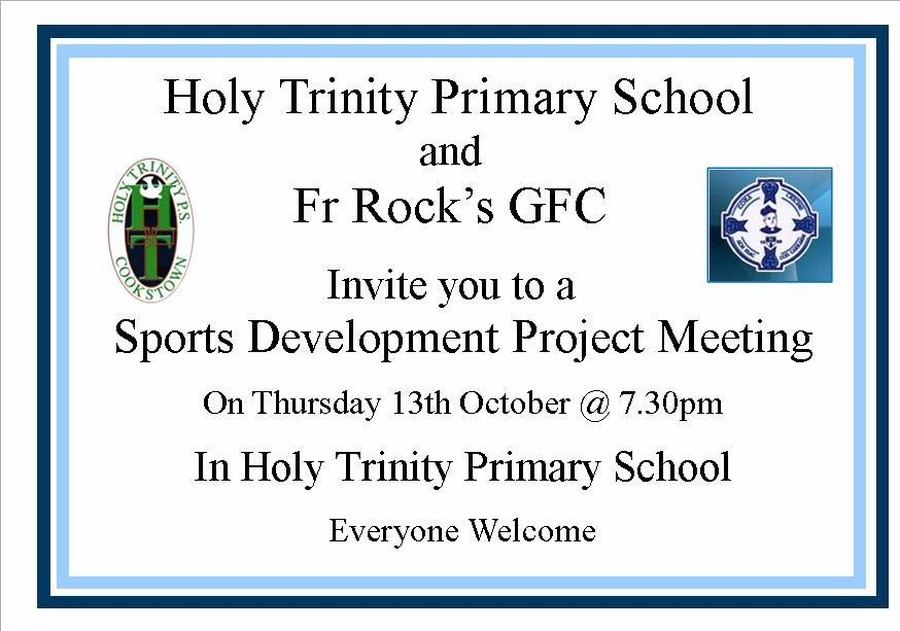 You are invited to a meeting in the school on Thursday 13th October
The purpose of the meeting is to explore areas of cooperation and Collaboration between Fr Rock's GFA and our school as the means of providing top class sports facilities for our children- come along and find out more on the night.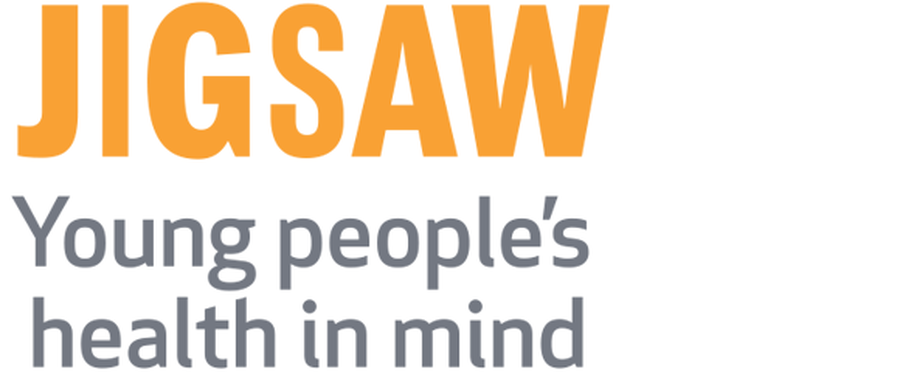 Mr Devlin attended a conference in The Mansion House, Dublin on Wednesday night 14th September. The event was organised by the Jigsaw Project and focussed on the well -being of pupils and the crucial role which schools play in the lives of young people. The main speaker on the night was Mr Frank D'Angelis, retired principal, of Columbine School Colorado.
The key message from the conference:
"We know that the presence of One Good Adult® in a young person's life has a positive influence on their mental health. Be it a parent, teacher, football coach or school bus driver, we all have a role in supporting the young people around us."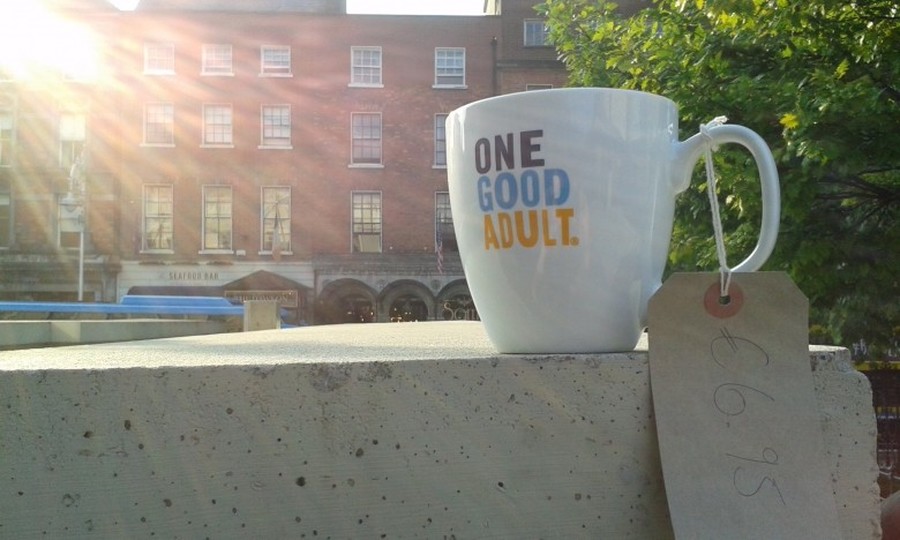 The beginning of year Mass took place on Tuesday 20th September and was attended by all pupils P2 to P7. Fr Tremer offered his kind words and blessings to the children, staff and parents of the school at the start of this new school year.
Children in P5 have been receiving taster sessions in the use of the App Garageband. The children have enjoyed making and creating music under the guidance of Mr Eamon Mc Garrity.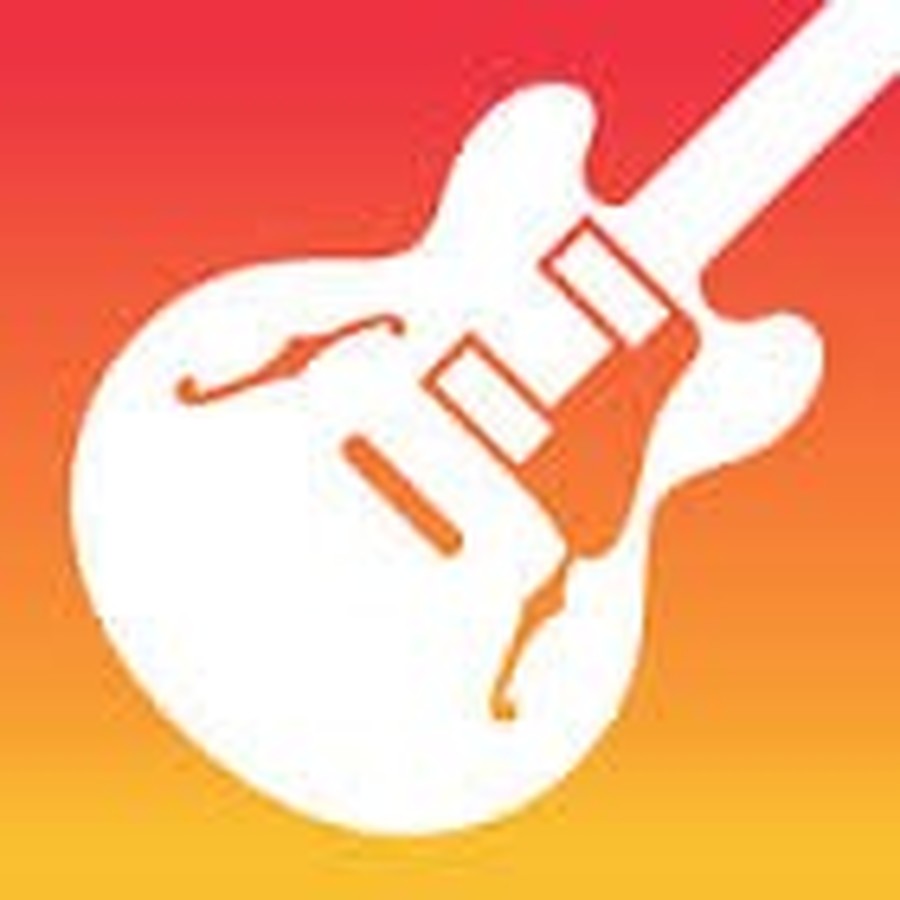 Drama classes led by Stephanie Falloon have begun for our P6 classes.
We have arranged a showcase event in the Burnavon on Thursday 25th May for all our music, dance, drama and poetry performers- more details nearer to the event.
Children in P4 will get the opportunity in term one to learn Irish- classes will be delivered by Rosemary Anderson from Mid Ulster Council.

Advice from Mr Devlin
Homework - Some Do's and Don'ts
Do read our school Homework Policy and clarify homework requirements with the class teacher at the induction talks.
Do spend some time with your child discussing homework/ helping them if necessary.
Do check your child's Homework Diary on a regular basis and sign weekly.
Do insist that your child reads every night.
Don't get anxious about homework or allow your child to be anxious- If you are unsure about the homework set or your child is really struggling, leave it to one side and send a short note via the Homework Diary and /or call the teacher.
Don't Panic- If there is a problem re homework -this can be resolved quickly and with the minimum of fuss.
Holy Trinity Primary Concert
Primary five, six and seven pupils from Holy Trinity Primary will take to the stage in the Burnavon on Thursday 25th May. The programme for the evening is an eclectic mix of singing, dancing and drama.
Supporting the programme on the night will be the senior and junior school choirs/ folk group and classical musicians. Stephanie Falloon, from the BEAM Theatre Group, Donaghmore has been working with the children in each of the P7 classes in preparing their own take on the musicals e.g. Matilda/ Annie etc. Tickets are on sale from the Burnavon Box Office.
See below for more information.
Looking forward to a great night.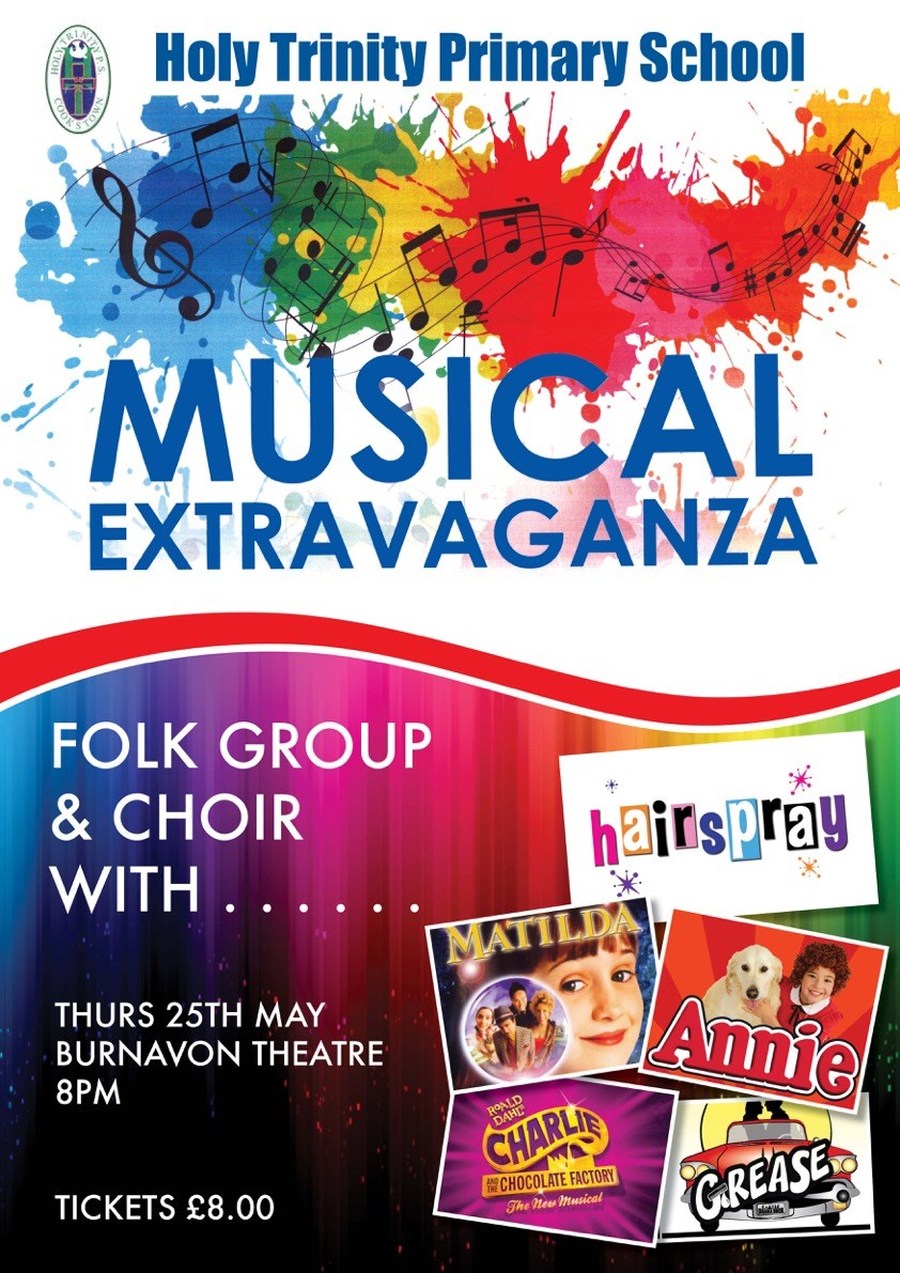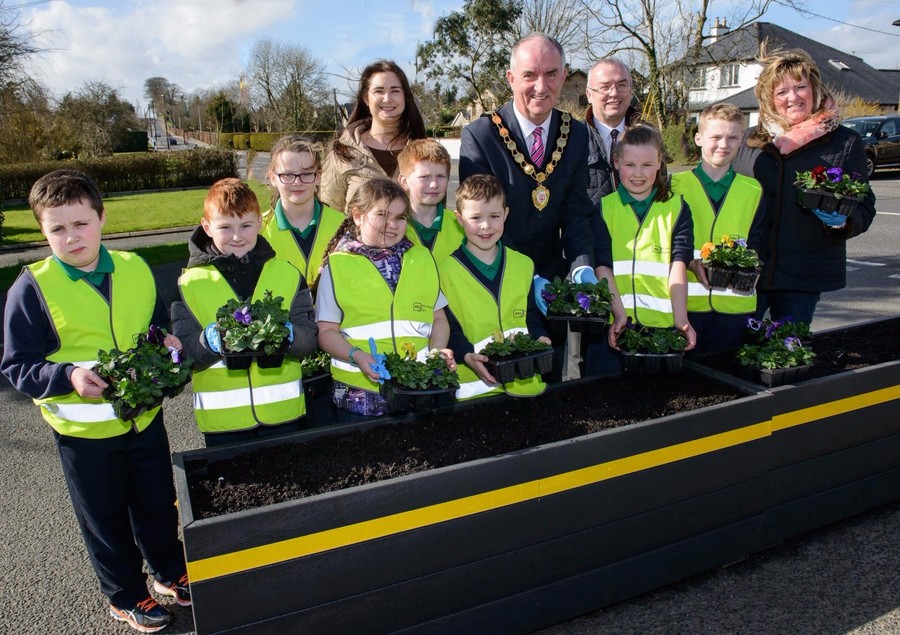 Eco Project with Mid Ulster Council
Miss Cush's Eco Team have been very busy recently; they joined up with staff from Mid Ulster Council to plant out the new boxes at the school entrance - Fairhill Road. Also in attendance on the day (Wednesday 8th March) were Mid Ulster Council Chairman, Mr Trevor Wilson and Mrs Frances Burton, Chair of the District Policing Partnership Board.
The planting boxes serve two purposes: firstly, to enhance the environment and secondly, to discourage drivers form using the front entrance as a turning circle at the weekend. Both objectives have been achieved. Many thanks to Emma Hagan and Annette Mc Murray from Mid Ulster Council for all their hard work in making the project happen.
McCord Project
Holy Trinity Primary and our P1 classes welcomed some very important visitors to our school on Monday 27th February. The McCord Team led by former Chief Inspector, Stanley Goudie, visited each of the P1 classes to see the work which the children have produced as part of the project. It was a very enjoyable day for everyone- well done to our P1 staff and pupils and Mrs Byrne (Art Teacher)
Irish Culture/ Dancing
As we begin the lead up St Patrick's Day, we have introduced further opportunities for our pupils to sample and experience aspects of Irish culture. The Irish language classes will be extended to the after schools for pupils who wish to develop their Irish language skills to an even higher level. Set dancing classes have, until now, been delivered by Mrs Conway who will now be joined by Mr Pat Scullion in offering a six week programme to the P5 and P6 classes.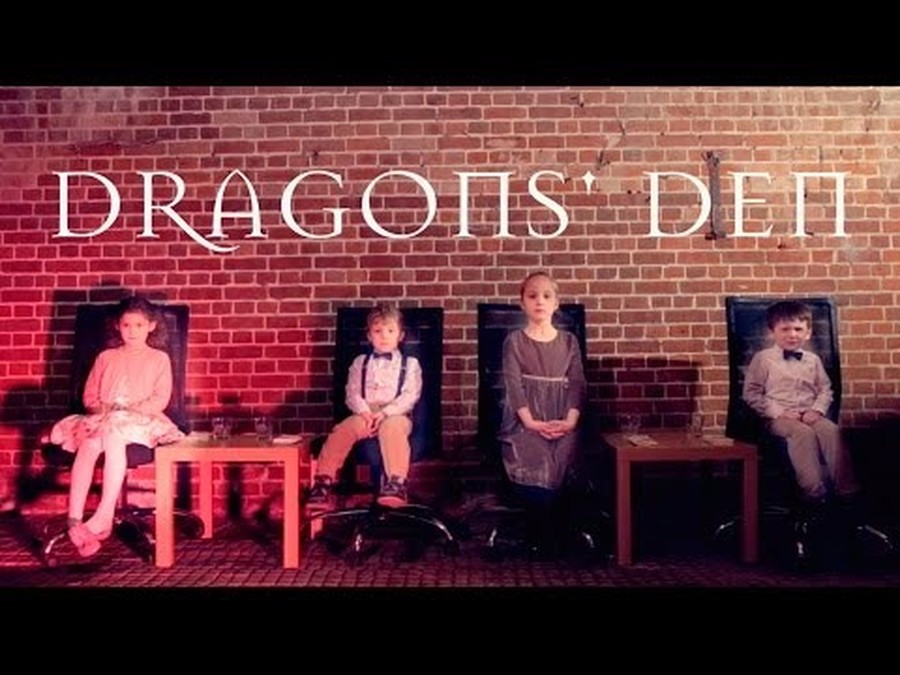 Keeping our Children Safe on the Internet
Today is Safer Internet Day- Tuesday 7th February. We have issued leaflets and worksheets for discussion at home.
Could I ask that every single parent takes some time to speak to their child re online usage and the dangers associated with misuse of the Internet?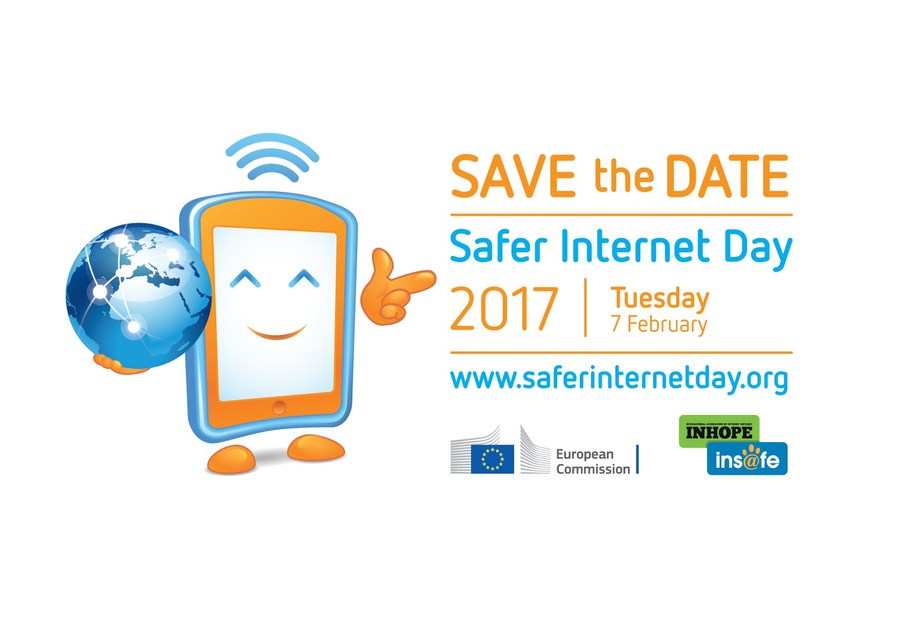 Internet Safety Talk for Parents
Year Groups right across the school are currently taking part in activities to highlight the need for online safety. In association with this we ask that you please keep Monday 30th January @ 7.15pm free for our Internet Safety Talk for Parents. The talk will be delivered by Mr Damien Harvey who is an expert in this field and will explore how we as parents can keep our children safe on the Internet is such a critical issue- we would strongly recommend that all parents attend.