End of Year Assembly
A huge well done to the boys and girls who took part in one last nursery assembly for their mums and dads (and grannies and nannies). The children all spoke out using their big, clear voices and told the audience what they loved about nursery as well as what they might be when they grow up!
Sponsored Cycle
A huge thank you to all the parents, grandparents, aunts, uncles, neighbours and friends who sponsored the nursery children in their recent cycle!
It was a beautiful, sunny day...perfect for a long cycle and a visit from the ice cream man!
The children raised almost £600...we will spend this money carefully on lots of lovely new resources!
Lego Workshop
The children had a fantastic time at the Lego stay and play workshops. The children worked with their parents to learn a new skill...the perfect way to build a Lego wall. When they had built their wall and were happy with how tall and how wide it was they were invited to decorate it with lots of mini- figures! Have a look at the wonderful creations below!
Spring is in the Air!
We have been blessed with beautiful weather this week and really have made the most of it!
The children have enjoyed creating obstacle courses, with lots of opportunities to balance and climb mini ladders. They have enjoyed sliding and slithering under bridges made using our community play blocks. There has been lots of painting and mark making outside at well; the children worked at different levels, including kneeling positions and lying on their tummies. This variety is important in helping the children develop their core muscles.
Daffodils
We found lots of beautiful daffodils growing in our Nursery Garden. We talked about how they feel and smell. We counted their petals and noticed they have long stems. Then we had fun painting them!
The Lollypop Lady!
AnneMarie the Lollipop Lady came to our nursery to tell us about her job. She showed us how to cross the road safely. Thank You Anne Marie!
The children have enjoyed taking on the role of the Lollipop Lady during their Outdoor Play.
Valentine's Day in the Nursery
We celebrated St Valentine's Day by decorating cards for our mums and dads. We worked hard to cut out hearts from wrapping paper and tissue paper and we decorated using shiny sequins and sparkles.
We also followed a recipe to bake buns. We measured the flour, sugar and butter and cracked some eggs. We used an electric beater to mix the ingredients together. We enjoyed melting yummy chocolate to decorate!
People Who Help Us
Our theme during February is people who help us in our school and in our community. We have been learning about the role doctors and nurses play in making us feel better when we feel sick. We have been dressing up in our role play area and have been taking great care of each other and the babies in the hospital.
We also visited Karen, the cook, who makes us our delicious dinners every day. She showed us how to make pizza and scones...thank you Karen!
The Lollypop Lady visited the nursery to tell us about keeping safe when walking to school. She showed us her stop sign and showed us how to cross the road safely. Thank you for visiting us!
Outdoor Fun!
This month we have been focusing on developing our gross motor skills outside. We have been practising jumping with two feet and balancing on beams as well as climbing and running safely.
Jo Jingles
6th February 2019
Destination Outer Space!
We jumped on our rockets and flew to the moon!
Hospital Role-Play in Mrs Hughes' Class
We are kind and gentle doctors and nurses.
Stay and Read in the Nursery
Kendra is a librarian in Cookstown library. She came to enjoy story time with us and she read us a lovely story. She told our parents about the beautiful childrens' books that are in our local library and they are free for us to borrow.
Snow Day!
The children had so much on Wednesday 30th January when just enough snow fell to build the perfect snowman! The children were given two safety rules "no running" and "no throwing snowballs"...they all followed these rules meaning we had a fabulous morning playing in the snow! Although the aim was to have lots of fun, there were so many learning opportunities too; putting on our warm, cosy clothes independently, rolling snowballs for Frosty the Snowman, working collaboratively to roll and push the huge body and head and deciding what to use for his eyes, nose and buttons to name a few!
I'm sure you agree our nursery playground looks beautiful in the snowy, frosty weather!
When we returned inside, we enjoyed some hot chocolate to warm us up again! Some of the girls decided to build another snowman using our wooden blocks. Corin kindly shared her hat and scarf to keep our new friend warm and cosy. Embracing all things snowy, we continued with our theme and played a "snowball" game. The children practised their throwing skills by throwing pretend snowballs into the tub.
Fun in the Snow with Mrs Hughes!
We had good fun playing in the snow, making footprints and snow castles. We all worked together to make a snowman and we enjoyed delicious hot chocolate when we came back inside to our warm classroom.
2019 is off to a busy start in the nursery!
So far in the nursery we have been exploring making marks in blue paint, making bird feeders , building castles and making hot chocolate and soup in the mud kitchen.
Ollie and Junior were keen to explore magnets and even went on a magnet hunt inside our classroom and around our playground.
Outside we have been busy creating a ball run using pipes and guttering. We have been exploring ways to make the ball travel faster and have tried to change the direction the ball is travelling as well!
Halloween Fun in the Nursery!
Paper Plate Pumpkins!
The children were invited to make pumpkins using paper plates. As we are working on following instructions from the teacher, the children were given some simple instructions to follow.
Our perfect pumpkins are on display in the nursery foyer.
The nursery children work very hard!
Brrr....It's Cold!
The freezing temperatures outside didn't dampen our fun! We out on our warm coats and hats, and after agreeing on a safety rules we went outside to play in the snow. We didn't have very much snow but we made the best of it!
The children discovered that water inside tyres, buckets and on the sand cover had frozen into big pieces of ice. The children soon realised that the ice was very fragile and broke easily in their hands.
November has got off to a busy start in Mrs Hughes' class.
This week the children have enjoyed making dough. This activity helped to develop muscles in the children's hands, which are needed for writing, drawing and cutting.
Jo Jingles!
The children enjoyed another visit from Jo Jingles and Jennifer. The theme was autumn animals and Jo himself was dressed up as a fox! The children learned lots of new songs and rhymes about owls, squirrels, mice, foxes and hedgehogs.
Jo Jingles' next visit is Wednesday 5th December 2018.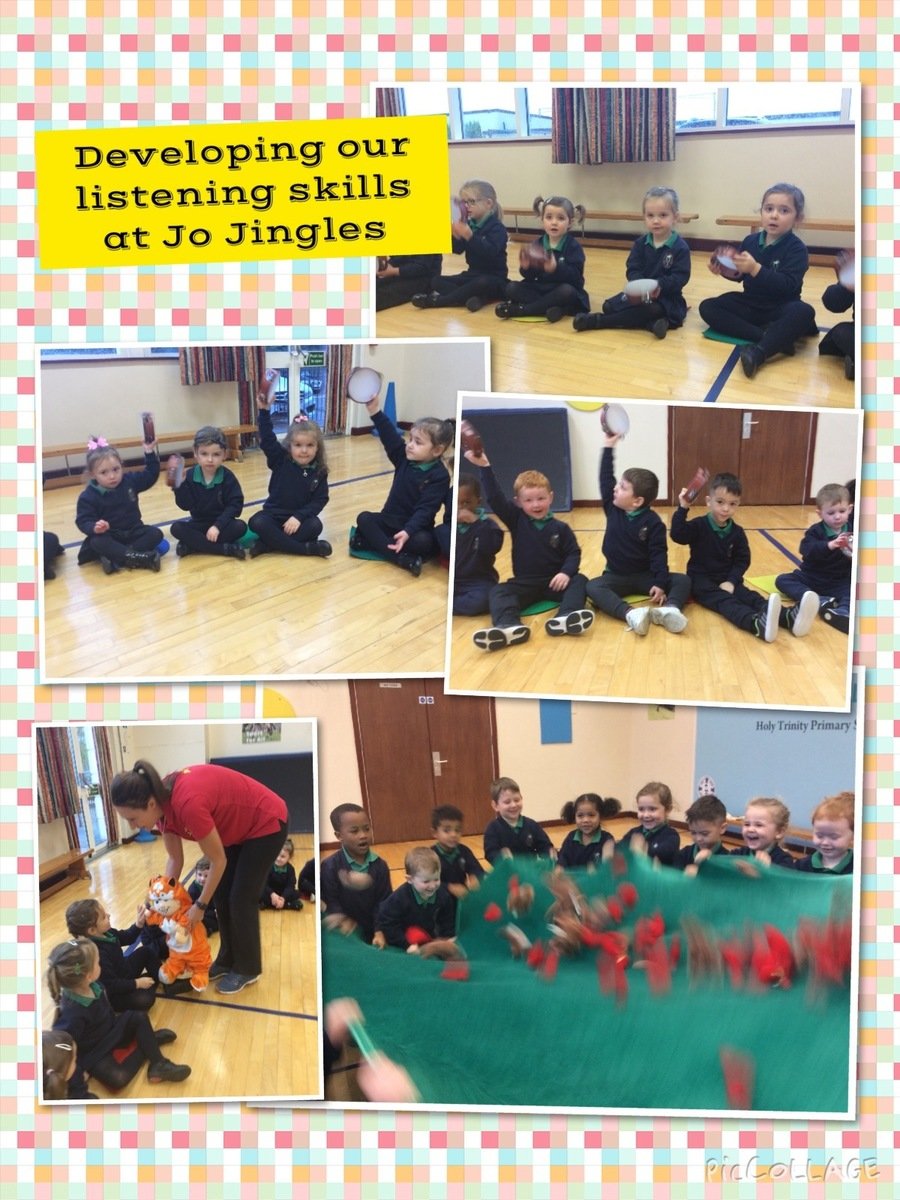 Orange Printing
The children were invited to print with a selection of vegetables. We had a good look at the vegetables before we began printing. The children identified the carrots but weren't sure about the yellow and red peppers and the celery. The children felt the texture, talked about the smell and Alex even had a taste of the celery!
I suggested to the children that we make ornage prints for our colour wall, however we didn't have orange paint. The children had a go at mixing red and yellow and discovered it made orange.