Primary 6 Trip to Tullyhogue
Primary 5 Early Man Workshop
Our Primary 5 pupils had a wonderful time learning about Early Man during a recent workshop held in our school. The photographs below show some of the amazing activities that were provided for the pupils.
Football Tournament 12th April 2018
Congratulations again to our boys on their win at the tournament in Ardboe. Both of our teams won their respective sections with the first team winning the cup and the second team winning the shield.
Many thanks to St Patrick's Mullinahoe for hosting.
See below for some photographs from the tournament.
Alternatively, visit the link below to view some professional photographs from this tournament. Parents have the opportunity to buy photographs from Team Talk if you wish to do so.
Pancake Tuesday
The Primary 7 pupils are focusing on Instructional writing this term. So we thought it was only fitting that we follow a set of instructions and make pancakes on Pancake Tuesday.
We worked in groups to make our batches of pancake batter. We took turns to weigh, measure, mix our batter paying close attention to the recipe as we went along. We made sure to be careful and responsible around the griddle, especially when we were flipping the pancakes. We knew we followed the recipe correctly as they were fluffy and delicious!
We also managed to do our own washing up!
Miss Cush's class
Well done to Mr Pickering and our P6 and P7 boys who recently won the Allianz Cumann na mBunscol Thir Eoghain Boys Indoor Football Heat.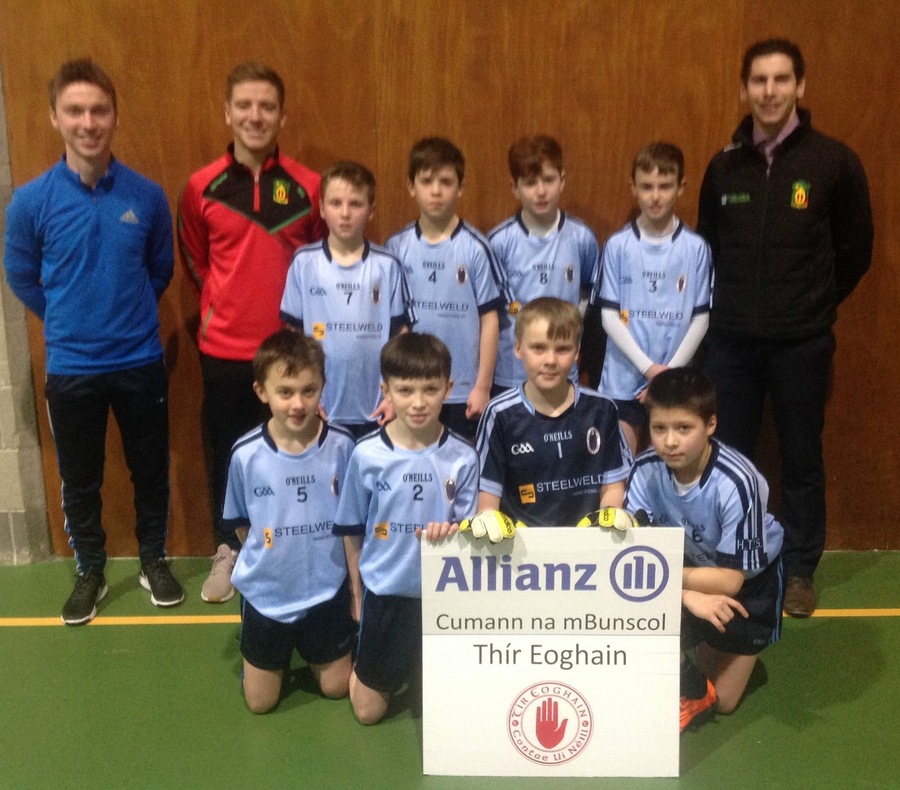 See below for some action shots from the tournament.
Primary 7 Art Project
P.7 pupils participated in the Art Cart project on Tuesday 16th January. The pupils participated in workshops throughout the day where they created portraits of each other using the Minecraft app and used plasticine to make some of the popular Minecraft characters.
Digital Media AmmA Project
Miss Cush's class took part in Scheme 1, AmmA Digital Media Project. Over a number of weeks, the pupils learnt to explore and express a range of digital media using Imovie and Green Screen.
The class decided to make persuasive films, based on their World Around Us topic: Hunger and Famine. They visited the Ulster American Folk Park, where they filmed some footage for their films. In school they used Green Screening to film their remaining scenes.
On Tuesday 28th November, James from AmmA Creative Learning Centre visited the class to edit their films. During this session, the pupils used various apps to sequence, edit and export their films.
Primary 7 Trip to Ulster American Folk Park
The pupils in Miss Walls class recently went to visit the Ulster American Folk Park as part of their topic 'Hunger'.
Gaelic and Hurling Blitz
Primary 5 and Primary 7 pupils attended a Gaelic and Hurling blitz at MUSA on Thursday 23rd November 2017. It was a very enjoyable day.