Click the link above and register FREE to VIP Classroom to view home coaching videos. These videos can be used to support Physical Education at home.
ALLIANZ CUMANN Na mBUNSCOL
GIRLS' INDOOR FOOTBALL HEAT 5: Cookstown
Allianz Cumann na mBunscol Thír Eoghain held the fifth of 9 scheduled heats of the annual 5-a-side Girls' Indoor Gaelic Football for primary schools today in Cookstown. A total of 7 local schools competed for the honour of winning this heat and, with it, a coveted place in the Tyrone County Final. The format of the day's play saw the teams being drawn into two sections – of 4 and 3, respectively.
Section 'A' featured schools from St. Joseph's Galbally; Holy Trinity Cookstown; St. Mary's Dunamore, agus na paistí o Gaelscoil Eoghain. After a number of titanic struggles and some very close encounters, Holy Trinity topped the group unbeaten with 2 wins and a draw, whilst the girls from Dunamore claimed runners-up by a single point. Hard luck, but well done, to the Gaelscoil Eoghain and Galbally girls.
Section 'B' contained teams from St. Patrick's Mullinahoe, Ardboe; St. Peter's Moortown, and St. Patrick's Donaghmore. Fair play to these girls as they really gave their all in a bid to qualify. After a close series of games Ardboe emerged undefeated with a win and a draw followed by local derby rivals Moortown as runners-up. The derby tussle ended 1-1. Well played Donaghmore but they just missed out on a semi-final berth.
The two semi-finals manifested the best attributes of our great national games as Holy Trinity qualified for the final by seeing-off a brave Moortown effort. Meanwhile, our section 'B' winners, Ardboe, fell to a reverse at the hands of a determined Dunamore.
This resulted in another local derby and a 5-goal thriller Heat final. Great credit to Mrs. Jane-Marie Mallon's Dunamore team and Master Ryan Pickering's Cookstown team for treating us to such a spectacular final. Ultimately, a 3-2 scoreline went the way of Holy Trinity P.S. Cookstown. Dunamore can be delighted with the way they performed all day, but it is the Cookstown girls who make the Co. Final on 12 March in MUSA.
Our thanks to referee Marty Devlin for his expert officiating, and to Allianz Cumann na mBunscol officer Damian Kelly for coordinating the day's matches. Attention now turns to Omagh next week. Bring it on!
Our swim team took part in the Mid Ulster Primary Schools Swimming Gala on Tuesday 4th February 2020 in Cookstown Leisure Centre.
The team came 1st and won the shield and now go through to the finals on 12th March 2020 in Greenvale Leisure Centre, Magherafelt.
Well done to each member of the team, you are all superstars!
On Saturday, the 22nd of September, I went to play Gaelic at Croke Park, Dublin. My family went to watch me and they cheered me on.
Before going to Croke Park, I trained at Garvaghy every Monday night where some of the Tyrone players helped me practice my football skills.
When I arrived at Croke Park, I went on a special tour of the stadium. There was a special tunnel, and changing rooms. Mummy took a photograph of me. I really enjoyed the tour.
Next, it was time for our football match. I scored a goal for my team, Tyrone. There were lots of teams from different counties. I played against the purple team. I got a medal for playing Gaelic and then, I went to the Citywest Hotel in Dublin. My room number was 3582.
There was a restaurant in the hotel, and there was sausages and chips, my favourite. I watched Strictly Come Dancing before I went to bed. The next morning, I went to the swimming pool. I had an amazing time at Croke Park.
My name is Dillon McElroy and this summer I was picked to play bowls for Ireland. After attending a trail with lots of under 18-year-old players from all over the country I was delighted to get selected. The Tri Nations Event at Belmont Bowling Club in Belfast included teams from Scotland and Wales.
I made my debut against Wales but was unlucky to lose by 4 shots. Over the two days Ireland played lots of games against Scotland and Wales but unfortunately finished in third place.
This was not my only achievement of the summer as I played in the final of the Youth Singles. On a very wet and windy evening in Portrush, I was beaten by my good friend Alex Jones.
To finish the summer, I won my first outdoor bowling tournament with my Daddy and three other players from Cookstown. The competition was called "The Five Man Team" where the best 5 Players from each club play against each other. We were the winners.
Congratulations to the following children on their recent successes outside school!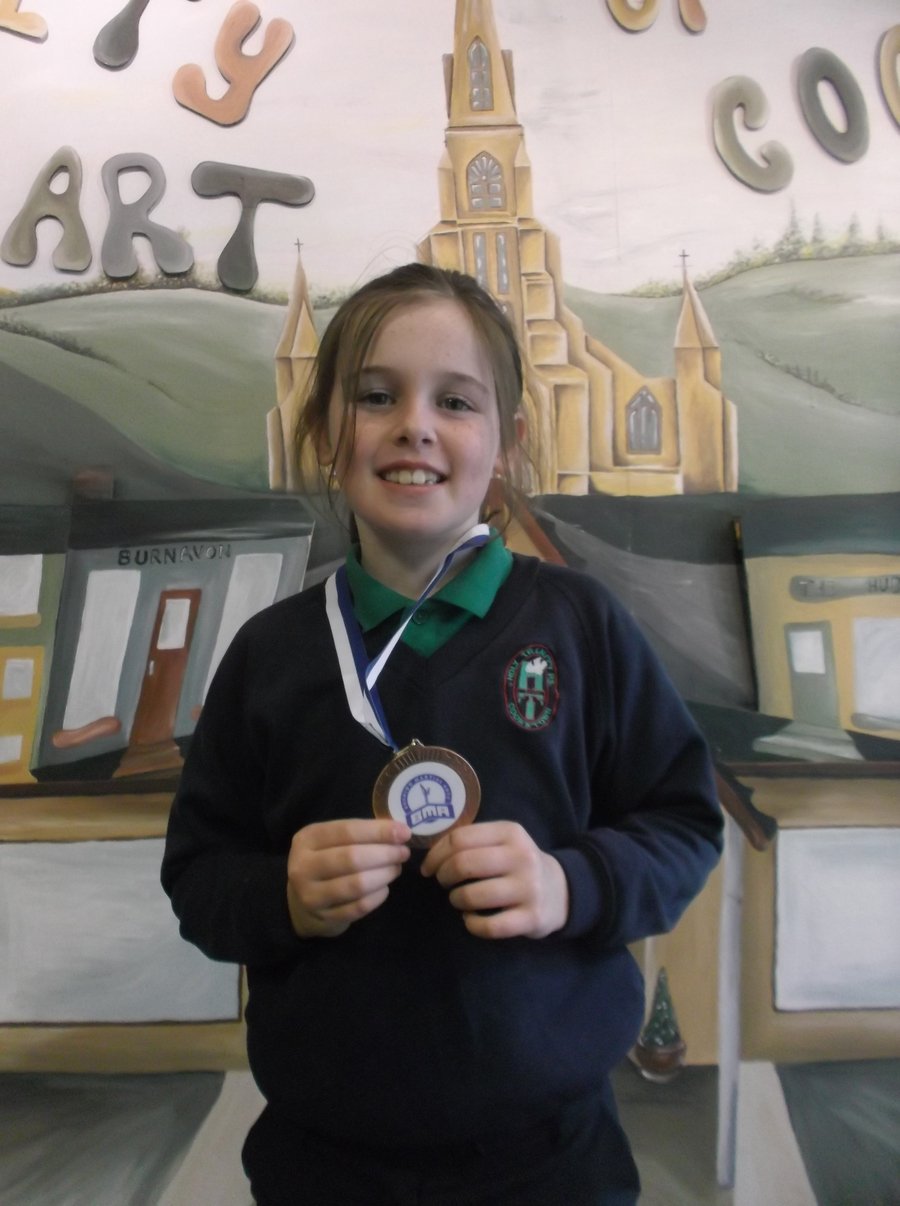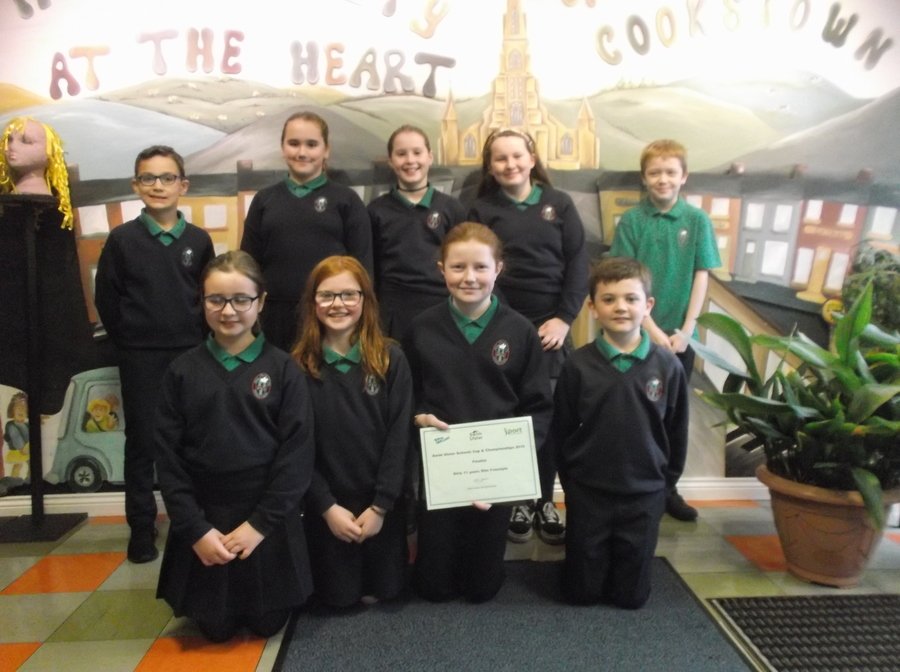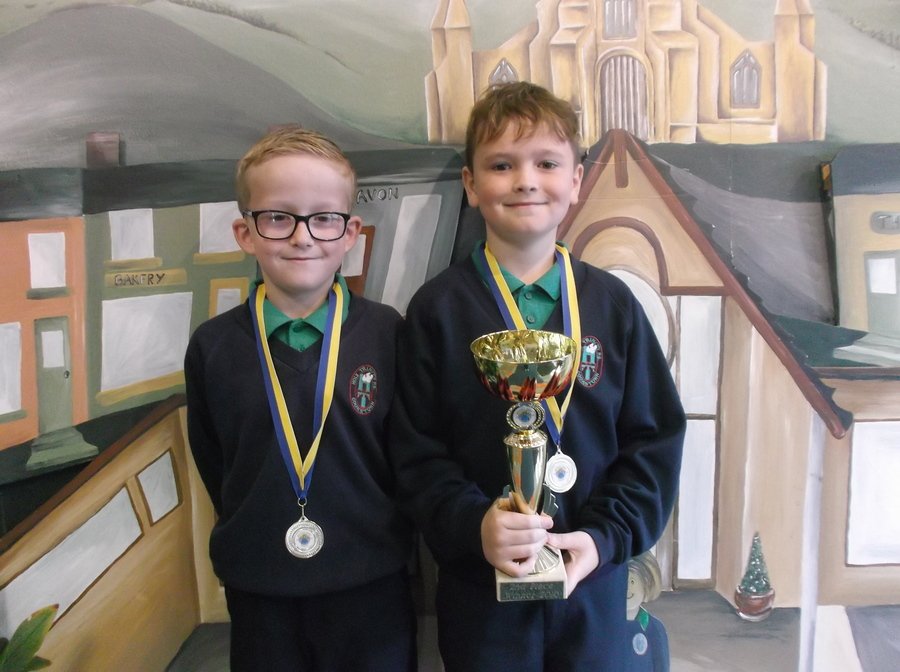 Conall Hampsey and Conor Fitzpatrick